Ranger • Quick cure clay en Pearl powder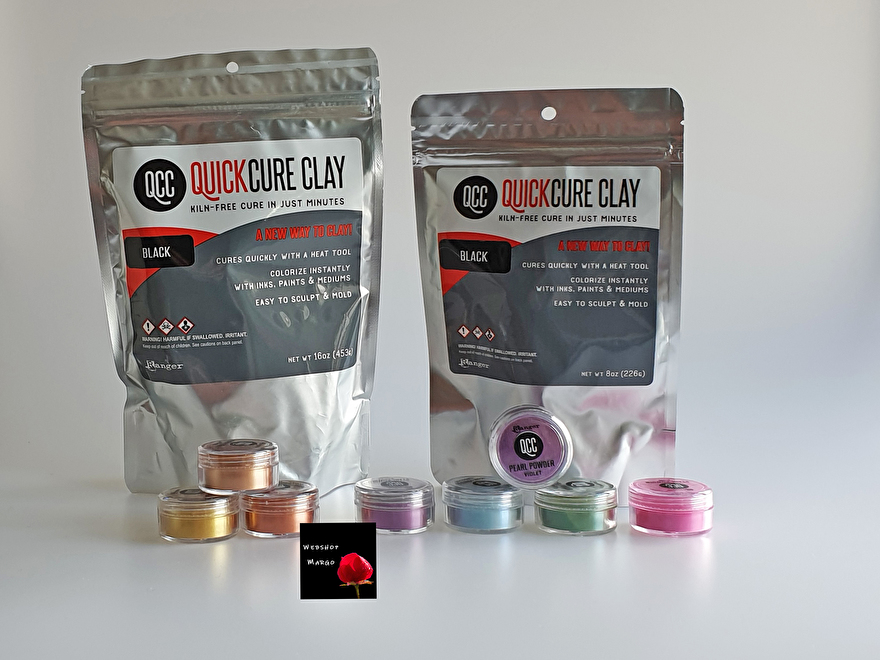 Het is een nieuwe manier van klei! QuickCure Clay is een plooibare klei-formule die binnen enkele minuten uithardt met het embossing-poederhittetool van Ranger. Het is niet nodig om de klei in een oven of oven te stoken. Deze revolutionaire klei-formule hardt in slechts enkele minuten uit. Kleurstoffen kunnen in de QuickCure Clay worden gemengd voordat deze is uitgehard. Embossingpoeders en Mixed Media Powders kunnen worden gebruikt om de klei te coaten; of je kunt de klei schilderen voor een meer gedetailleerde weergave nadat deze is uitgehard. Veel verschillende verven en mediums werken met de klei zoals Tim Holtz® alcoholinkten, Ranger embossingpoeders, archival inkten, Vintaj® patinas, perfecte parels en meer. Het eindproduct is zeer sterk en duurzaam, ideaal voor het maken van sculpturen, sieraden en andere projecten met mixed media.
QuickCure Clay hoeft niet te worden gemengd of geconditioneerd - het is klaar voor gebruik direct uit de verpakking en het hoeft niet te worden opgeslagen in een luchtdichte verpakking of een beperkte houdbaarheid - QuickCure Clay zal niet uitdrogen of uitharden als het niet uitgehard wordt . Deze kleisamenstelling is ideaal voor het maken van sieraden en voor het beeldhouwen. Het hecht aan hout, papier en veel kunststoffen en hecht aan reeds uitgeharde klei waardoor objecten in stappen kunnen worden voorbereid.
WebwinkelKeur Klantbeoordelingen
WEBWINKELKEURWIDGET