Cadence Dora Metallic Paint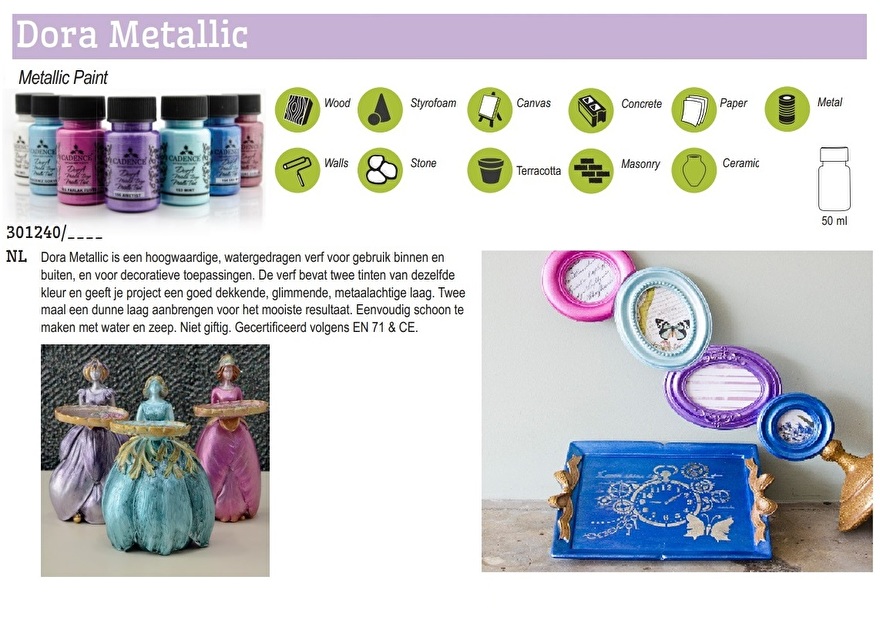 Cadence Dora Metallic Paint
NL
Dora Metallic is een hoogwaardige, watergedragen verf voor gebruik binnen en
buiten, en voor decoratieve toepassingen. De verf bevat twee tinten van dezelfde
kleur en geeft je project een goed dekkende, glimmende, metaalachtige laag. Twee
maal een dunne laag aanbrengen voor het mooiste resultaat. Eenvoudig schoon te
maken met water en zeep. Niet giftig. Gecertificeerd volgens EN 71 & CE.
ENG
Dora Metallic is a high quality, water based paint for indoor and outdoor craft use
and decorative painting. It has 2 tones in the same color. It gives the brightest, best
covering paint for adding metallic accents to most projects. Paint thinly at least
twice. Cleans up easily with soap and water. Non toxic. Certified by EN 71 & CE.
Gastenboek
04-07-2020

- Ik heb mijn bestelling vandaag in goede orde ontvangen. Bedankt... 

lees meer

03-07-2020

- Vandaag mijn bestelling weer keurig netjes ontvangen.

Bedankt voor het extraatje,... 

lees meer

03-07-2020

- Goedenavond Margo, Ik heb mijn pre order binnen. Helemaal blij... 

lees meer
Plaats een bericht