Cadence Premium acrylverf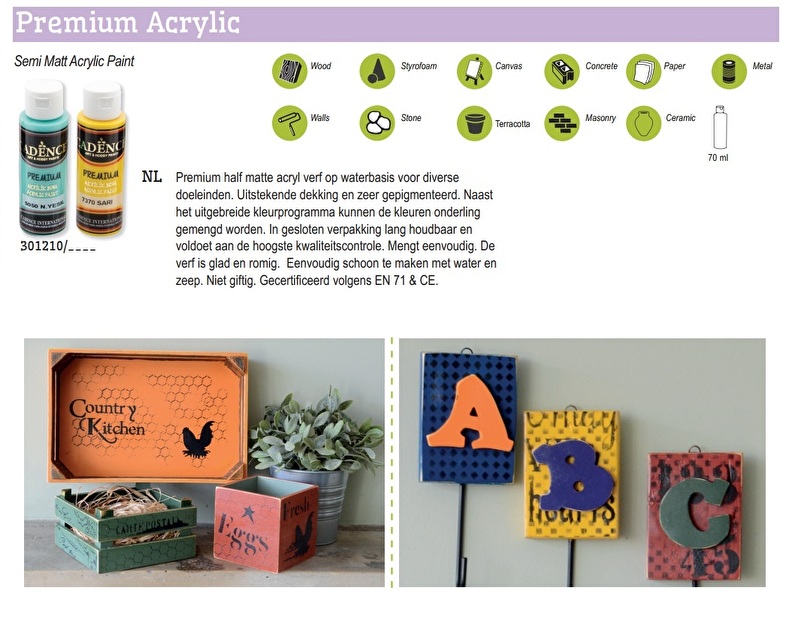 Cadence Premium acrylverf
NL
Premium half matte acryl verf op waterbasis voor diverse
doeleinden. Uitstekende dekking en zeer gepigmenteerd. Naast
het uitgebreide kleurprogramma kunnen de kleuren onderling
gemengd worden. In gesloten verpakking lang houdbaar en
voldoet aan de hoogste kwaliteitscontrole. Mengt eenvoudig. De
verf is glad en romig. Eenvoudig schoon te maken met water en
zeep. Niet giftig. Gecertificeerd volgens EN 71 & CE.
ENG
Water based, all-purpose, premium quality semi matt acrylic
paint. Excellent coverage and highly pigmented. Extensive color
range and colours may be intermixed. Its long shelf-life and multi
packaging types can answer different needs. Highest quality
control. Blends easily. Smooth and creamy. Cleans up easily with
soap and water. Non toxic. Certified by EN 71 & CE.
WebwinkelKeur Klantbeoordelingen
WEBWINKELKEURWIDGET