Cadence Hybride acrylverf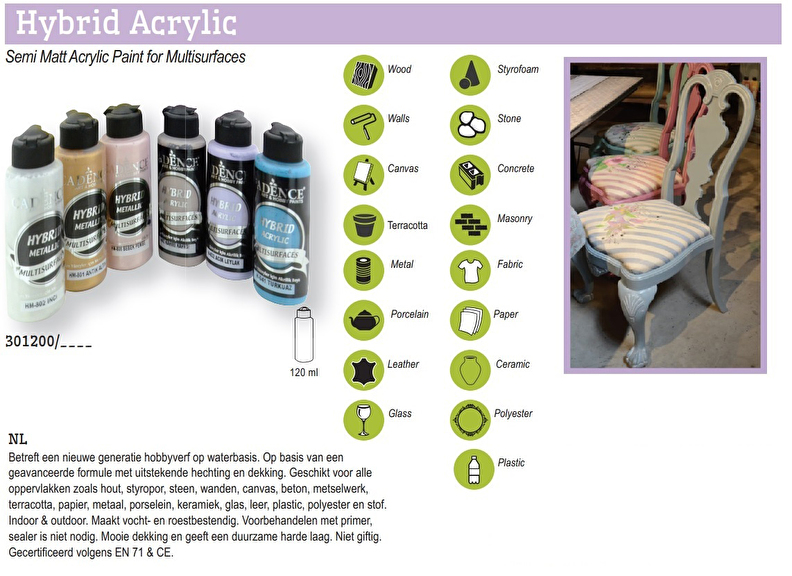 Hybrid Acrylic Alles verf ( Semi Mat )
Semi Matt Acrylic Paint for Multisurfaces
NL
Betreft een nieuwe generatie hobbyverf op waterbasis. Op basis van een
geavanceerde formule met uitstekende hechting en dekking. Geschikt voor alle
oppervlakken zoals hout, styropor, steen, wanden, canvas, beton, metselwerk,
terracotta, papier, metaal, porselein, keramiek, glas, leer, plastic, polyester en stof.
Indoor & outdoor. Maakt vocht- en roestbestendig. Voorbehandelen met primer,
sealer is niet nodig. Mooie dekking en geeft een duurzame harde laag. Niet giftig.
Gecertificeerd volgens EN 71 & CE.
ENG
New generation water based craft paint with an advanced formula with excellent
adhesion on all surfaces. Can work on wood, styrofoam, stone, walls, canvas,
concrete, masonry, terracotta, paper, metal, porcelain, ceramic, glass, leather,
plastic, polyester and fabric with excellent coverage. Indoor & outdoor formula is
moisture & rust resistant. No need for primer & sealer. Superior flow and leveling
with durable hard finish. Non toxic. Certified by EN 71 & CE.
WebwinkelKeur Klantbeoordelingen
WEBWINKELKEURWIDGET