Cadence shake & gilt liquid gilt spray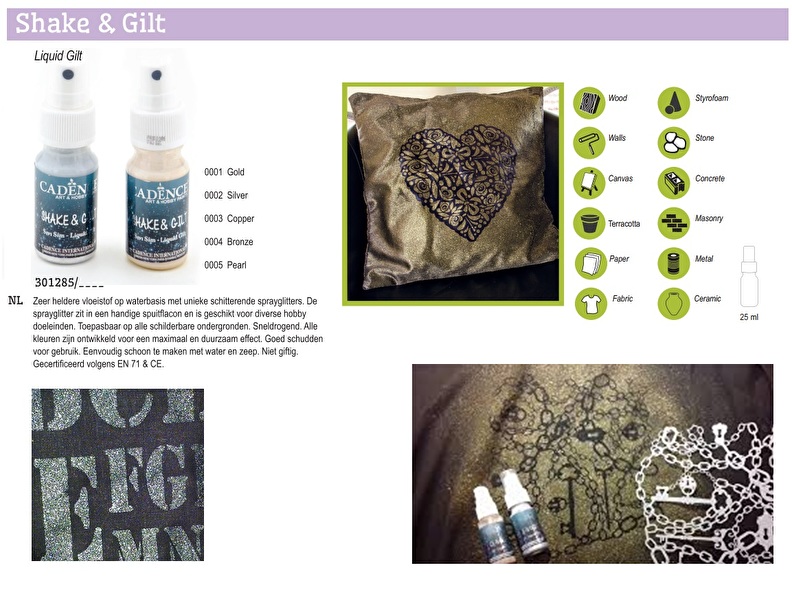 Shake & Gilt spray
NL
Zeer heldere vloeistof op waterbasis met unieke schitterende sprayglitters. De
sprayglitter zit in een handige spuitflacon en is geschikt voor diverse hobby
doeleinden. Toepasbaar op alle schilderbare ondergronden. Sneldrogend. Alle
kleuren zijn ontwikkeld voor een maximaal en duurzaam effect. Goed schudden
voor gebruik. Eenvoudig schoon te maken met water en zeep. Niet giftig.
Gecertificeerd volgens EN 71 & CE.
ENG
ENGWater based extremely bright liquid & unique spray glitter with dazzling sparkles.
Spray glitter in the convenient pump-action spray bottle is suitable for all craft
purposes. For use on all paintable surfaces. Fast drying. Each of the shades has
been formulated for maximum impact and maximum shelf life. Shake well. Cleans
up easily with soap and water. Non toxic. Certified by EN 71 & CE.
Beurs Agenda
Art Specially 14 en 15 maart 2020
Hart van Holland, Nijkerk
Gastenboek
15-01-2020

- Super bedankt voor de snelle levering.

lees meer

15-01-2020

- Hallo Margo en Joop,

Gisteren mijn bestelling ontvangen met de busho's.

Zoals... 

lees meer

13-01-2020

- Hallo Margo,

Bedankt voor de snelle levering. Ook het cadeautje vind... 

lees meer
Plaats een bericht